BIBS Insulation (Blow In Blanket System)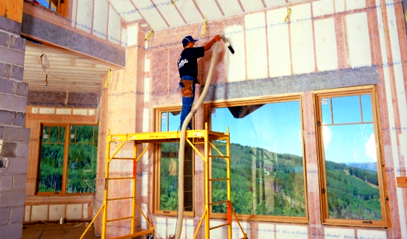 Get all the latest news on home energy efficiency!

The original blown-in wall system, commonly known as BIBS insulation, was patented and trademarked more than 30 years ago.
BIBS must be installed by a licensed, certified, and trained professional. Working with a contractor who understands the correct density, proper materials, and has been property trained is critical to the success of this popular system.
BIBS insulation is installed using pure "blowing wool", another name for specially engineered fiberglass only from manufacturers Johns Manville, CertainTeed, and Knauf Insulation. Fiberglass installed from any other source is not considered BIBS, for example cellulose is not considered BIBS.
BIBS insulation is also installed with a certain type of fabric, available only through Service Partners and their subsidiaries.
How do you know whether you're getting the real thing or a knockoff system by an untrained worker? Check with BIBCA, the Blow In Blanket Contractors Association by visiting the contractor referral map or call the BIBCA office at 866-330-2427.
Related Articles

Many older homes retain a rustic charm, a unique design, or handcrafted woodwork that makes them a desirable place to live in. Unfortunately,...

In comparing energy efficiency, the difference between an existing home and a newly constructed one is that a new home is generally 30% more...

When you were younger, did your mother ever tell you to close the door because "we aren't paying to heat the outdoors"? Now that you're a...